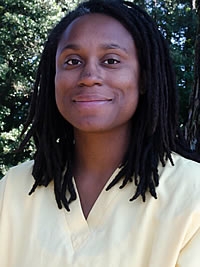 Dr. LaTanya Maney, DVM
Dr. Maney was born and raised in Nashville, Tennessee, with her many brothers and sisters. She was always interested in medicine and is passionate about keeping the bond between pets and owners strong and healthy.
LaTanya's veterinary career started the summer after she turned 15. She worked a vet clinic through a program sponsored by the University of Tennessee College of Veterinary Medicine. She ended up attending Tennessee State for her undergrad degree in Agriculture, then stayed there to receive her DVM degree. After graduation she moved to Georgia and has been a practicing veterinarian at Stockbridge Animal Hospital since 2003.
Dr. Maney has two dogs, both of which she rescued from the clinic. Nyla is a pit bull mix who loves chewing on everything. Jelli is a Lab/sharpie mix who enjoys chewing on whatever Nyla hasn't gotten to yet! When time permits, LaTanya enjoys reading science fiction or horror novels. She even writes the occasional story or poem when the notion hits. She also participates in the Peachtree road race every year.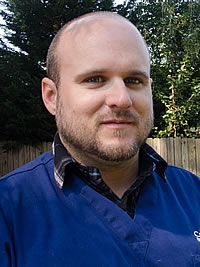 Dr. Gordon Waggoner
DVM, Practice Owner
Gordon's father, James Waggoner, opened Stockbridge Animal Hospital in 1972. Young Gordon would come to work with his dad, helping out in the kennels and with surgeries and trimmings. The veterinary bug caught him early, and now he is the owner and a practicing veterinarian at the clinic!
Dr. Waggoner was born and raised in Stockbridge, then moved with his family to their McDonough farm when he was 16. He attended the University of Georgia for his Bachelors of Science degree, graduating in 2003, then graduated from vet school at St. George's University in the West Indies in 2008. He also holds an MBA from St. George's.
Gordon enjoys surgery because of the patience and precision it requires. He also likes getting to know clients and teaching them about their pets—he knows clients appreciate getting to know their pet's doctor!
At home, Dr. Waggoner lives with his girlfriend Ashley and their eight-year-old son Ash. They have a two-year-old French bulldog named Elliott and a mini pot belly pig named Gus. Gordon's personal interests include farming, watersports, motocross, traveling, and watching Georgia Bulldog football.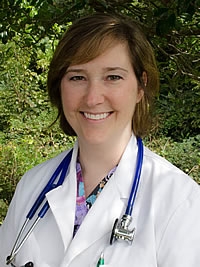 Dr. Krista Whitlock, DVM
In the second grade, young Dr. Whitlock announced to her family that she was going to be a veterinarian. Her father said she'd change her mind, but she didn't! Now she's an Associate Veterinarian at East Lake Animal Hospital.
Krista was born in Athens, Georgia, but grew up in Watkinsville. She always loved science, especially biology, and gets to combine that with her passion for animals. She took every science, chemistry, and anatomy class she could while in high school, then attended the University of Georgia for her undergrad degree in Animal Science. She graduated from UGA's veterinary school in 1997 and worked at another practice for three years before joining the team at East Lake.
Dr. Whitlock enjoys educating clients and simply talking with them—she likes to laugh with clients and let them know she's not just a boring doctor!
At home, Krista lives with her husband Tim and their son, who recently attended the Space Academy in Huntsville, Alabama. They also have a daughter with Shirley Temple curls. The family lives with Murray the dog, and cats Stevie G, Sprinkles and Pop-Tart.
Outside of work, Dr. Whitlock likes the Beatles and being a sci-fi geek. She enjoys attending Dragon Con in Atlanta every year to absorb all the Star Trek, Lord of the Rings, Doctor Who, Harry Potter, The Walking Dead, and Game of Thrones she can stand!
Dr. Kathy Hackett, DVM
Biography and photo coming soon.